Adoption Fundraising Plan
Getting Started
An adoption fundraising plan is the first thing you should have on hand before you begin your international adoption journey. Are you thinking about an international adoption, but have no idea where you'll find the money? Here are some tips to get you started.


Find a Reputable Agency
This is an essential first step in your adoption fundraising plan. The agency you choose is one of the most critical decisions you make in your adoption journey, and one that you should make with your head and not your heart. I would really encourage you to avoid photo lists of children available until you have thoroughly researched an agency.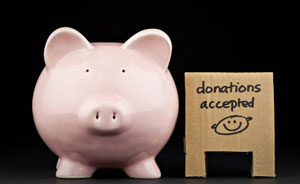 There are really great agencies out there dedicated to helping children find homes. And then there are some not-so-great agencies out there whose sole purpose is to make some fast cash. Make sure you avoid the latter by doing your homework and finding a reliable adoption agency before you even embark on your adoption fundraising plan.

A good agency will tell you upfront, in writing, what the total costs should come to, and while some expenses may be variable (i.e. airfare, hotel and food expenses, and document costs), certain costs such as agency fees and international fees should stay the same. The last thing you want is to think you've raised all the funds for your adoption and then have your agency announce they've raised their fees by a few thousand. You also don't want an agency that will take your money and then do...nothing. Yes, such abuses do happen, and that's why it's crucial to find a reputable agency that provides you with the costs upfront, in writing.
Get a Realistic Estimate of the Total Cost
Again, that's why a reliable adoption agency is such a crucial part of your adoption fundraising plan. Then once you have an estimate of the total costs, add about $2,000 to that total cost. Better to raise a bit more than you need than to come to the end of the journey and suddenly realize you're short.


Create Your Budget
If you do not have a budget already, it is absolutely essential you get on a budget now. You can learn about budgeting here. You will never reach your adoption fundraising plan goals without a roadmap.
Prepare to Cut Back
It is always far better to cut back on expenses than to try to look for outside sources of extra income. This is true in both your adoption fundraising plan and in life in general. Always, always learn to live on less rather than more. Hollywood celebrities file for bankruptcy all the time. If they can't get along just by earning more money, you won't either.

For one month, write down every one of your expenses. Then sit down and think of ways you can cut back on unnecessary expenses. Do you really need to eat out for lunch every day? How about those frequent trips to the movie theater?

If you currently do not have any children in your home, your lifestyle is going to change pretty dramatically anyway once you bring your child home. Why not get used to it now and save that extra money for your adoption fundraising plan.
Create a Blog
As a crucial part of your fundraising plan, get friends, family and people in your community involved early by creating an adoption blog and making posts on a regular basis. It's a great way to share your adventures on locating the right agency, getting a referral and finding funds. Share your frustrations as well as your successes. That way, your readers will feel as if they are on the journey with you.
Hold Off on the Loan
If at all possible, try to avoid taking out a loan as part of your fundraising plan. Getting a loan is an unwise step especially in an uncertain economy. Also, while both you and your spouse may be working now, one of you may want to stay home after you have your child. You won't be able to if you start your parenting in debt.


Other Helpful Sources
Ask many couples why they don't adopt, and they'll say finances are what are holding them back. But it doesn't have to be that way. My husband and I had a limited income, yet we were able to adopt three children, including one child from Guatemala without going into debt. You can too. Here's how.

Are you thinking about pursuing an international adoption? Developing a plan for how you'll pay for that adoption is the first step you should take. Here are some ways to get started.

There are many ways to fund an international adoption. Learn different ways by clicking here.



Uncle Sam also wants to help you with your adoption costs through a tax credit. Learn more.

If you're looking for more details about the tax credit, you can read more by clicking here.

Grants are a great way to help with adoption costs. Find agencies that offer grants by clicking here.

Want to learn about more places for grants? Here are some more great places to apply.

It is possible to find an international adoption you can afford. Here are some ideas to help save money.

Still wondering how you're going to pay those adoption expenses? Find more ways to raise funds by clicking here.

A garage sale is a great way to raise adoption funds. Learn how to finance your adoption by clicking here.

Intimidated by high adoption costs? Don't be. Paying for your adoption involves taking one step at a time. Find some more tips by clicking here.

So how much will your international adoption cost? The answer will depend on the country you choose and whether you choose to go through an agency or pursue an independent international adoption. Learn more here.

Fundraisers are a great way to pay for your adoption. Learn about some fun ones by clicking here.

The best kinds of fundraisers are fun, fairly simple to organize and - naturally - bring in the most funds for your international adoption. Learn more.

Making and selling gift baskets are one creative way to raise funds for your international adoption. You can read some tips on making an appealing basket by clicking here.

Thinking about taking out a loan to pay for your adoption? Read this article first by clicking here.

If you want to pursue a loan using your home as equity, there are important things to know upfront. Learn more here.

One of the easiest and most effective ways to pay for your international adoption is to learn to cut back on costs. Here are some easy ways.

Do you love doughnuts? You're not alone. Help pay for that adoption with a doughnut fundraiser. Learn more here.

When making plans for raising funds for your adoption, don't forget to include friends and family. Learn how to write a letter to solicit funds and help by clicking here.

More and more companies are now offering adoption benefits, so it's definitely worth your while to check and see if your company offers such benefits. Learn more.


Great Fundraisers!
Use a raffle to raise funds for your adoption. Learn more.

Sell t-shirts and pay for your adoption with a t-shirt fundraiser. Read more.

Read one person's story about raising funds for her adoption with a Garage sale fundraiser.

A benefit gala is a fun way to pay for your adoption. Read more.

How about a chicken dinner for raising funds. You can read all about it by clicking here.

One adoptive parent used a roller skating fundraiser to help with adoption costs. You can read her story by clicking here.

While you're doing one fundraiser, why not combine it with another one? Learn how.

Looking for a low-cost, simple way to raise funds? How about the pasta fundraiser? Read more.

A taste test party is another great way to raise funds. Learn more about it by clicking here.

Using the cash bash to raise funds for your adoption. Learn more.

A jigsaw puzzle fundraiser is a fun way to raise money for your adoption. You can read about it by clicking here.






---
Return from Adoption Fundraising Plan to the Home Page.
Pay Adoption Costs
Without Going Into Debt!
Adopt Debt free will provide you with the tools and techniques to completely pay for your adoption and bring your child home without having to go into debt!

Ready to learn more? Click here!.


---
Subscribe to My Free Ezine!


The International Adoption Ezine will keep you up to date with everything happening on International Adoption Facts and Information, as well as provide helpful tips about the adoption process, fundraising and raising your adopted child. Best of all, it's free!

Click Here to Subscribe.
---