The Reliable Adoption Agency
How to Find One
A reliable adoption agency is something we all hope to find when we take that first brave step in our international adoption journey. There is nothing quite so devastating than to write that check for thousands of dollars and receive nothing in return.




Yes, it can happen, so you want to make sure and do your homework before you ever give any agency your money. Here are some tips to find a reliable adoption agency.
Talk to Other Parents
Network. Ask everyone you know if they know of people who have adopted internationally. Then ask for their numbers, call them and ask what agency they used and whether they like their agency and if not, why. Most people are happy to share their experiences with you, both good and not so great. Word of mouth is a great way to locate a reliable adoption agency.
Find Adoption Forums Online
Log on to Yahoo Groups and look for international adoption forums. Join one and then ask if anyone can recommend a reliable adoption agency. People love sharing information!
Call the Agency
Once you get a few names, look up their numbers and then call them and ask for the case manager of the country that interests you. Whether the case manage is free to speak with you will speak volumes as to whether the agency is one you can work with. You need an agency that you can communicate with. And while staff members in agencies everywhere are busy, a reliable adoption agency should be able to return your phone call within a day or so.
Ask For References
Get a list of names of parents who have adopted from the agency you are thinking of applying from. Then contact those parents and ask for an honest opinion.
Contact the Better Business Bureau
It's a great way to find out if anyone has ever filed a complaint against an agency, and what steps the agency has take to rectify the situation. Find the agency's location by visiting the contact page on the agency's website. Then visit this link to find out how your agency rates. A good agency should have a rating of B+ or higher.
Adoption Grant Ministries
Usually organizations that offer adoption grants, such as ShowHope.org, have a list of adoption agencies they recommend. That's how I found my adoption agency - www.cwa.org. Such ministries are an excellent way to find a reliable adoption agency.
---
Return from the Reliable Adoption Agency to the Home Page.
Subscribe to My Free Ezine!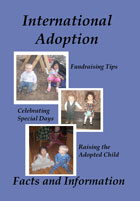 The
International Adoption Ezine
will keep you up to date with everything happening on this site, as well as provide helpful tips about the adoption process, fundraising and raising your adopted child. Best of all, it's free!
Click Here to Subscribe
.