The Big Adoption Picture
Wondering what the big adoption picture is and what the process will be from making the decision to adopt, to bringing your child home? Here is a general outline of the steps you will have to take.


What Kind of Child Do You Want?
If you have always wanted a son, for example, then China is not the country for you. Or for that matter, if you do want a daughter, then China will probably be the best choice. Do you want a baby, an older child, a sibling group? Try to make this decision before you set your heart on a specific country.
Choose a Country
The country you choose will depend on a number of factors, including your age, the gender of the child you want, whether you want an infant or an older child and sometimes even how much you can afford. Get familiar with the statistics on international adoption to help you decide.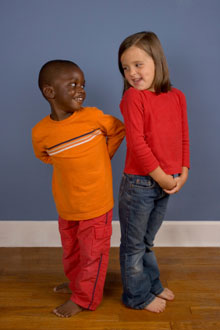 Find an Adoption Agency
An adoption agency can be your best friend - or your worst nightmare if you do not do your homework first and find a reputable place. Whatever place you are thinking of applying, research it thoroughly. Spare yourself the heartache and thousands of lost dollars by making certain your agency is honest. Then apply.
Have a Homestudy Done
Once you have applied at an agency, you will need to have a homestudy done.

For most parents, this is the scariest part of the big adoption picture, but doesn't need to be. Your case worker won't go over your home with a white glove or give you the third degree. He or she just wants to make sure you're a normal person who wants to raise and love a child.

Your homestudy caseworker will either be provided by the agency - if the agency is located in the same state you are - or you will have to find one yourself. Again, do your homework and find one who is reputable.
Have You Completed an
Independent International Adoption?
It is possible to adopt a child internationally without using an agency.
If this is what you have done, would you be willing to share your experience with other readers? Please click on this link and share your story!
Apply to CIS
Early in your adoption journey, you will have to apply to the Citizenship and Immigration Services (Formerly the INS) to allow you to bring an orphan into the United States. You will need to apply as soon as possible, because the process is lengthy.
Prepare Your Dossier
This is the dreaded paperwork part of the big adoption picture you have doubtless heard of. You will need birth certificates, marriage certificates, proof of employment and other documents, depending on your agency and the country from which you are adopting.
Useful Links
To see the necessary forms and instructions for carrying out an adoption in Florida, check out
Florida Court Forms
, a website dedicated to helping those who want to help themselves.
Get Approved By the Consulate
Once your documents are assembled, you send them to your adoption agency. They'll go over them to make sure everything is in order. Then they'll send them off to your country?s consulate (or embassy) for approval. Then the documents are sent back to your adoption agency who then forwards them to an agency or attorney in the country you have chosen.
Get a Referral (Or Usually Two)
In most countries, you typically must be approved by the government before they will refer a child to you. Once that happens, your agency will contact you and send you photos of your child. Obviously the procedure would be different if you saw a waiting child in a photolist and applied to adopt that specific child.
Travel to Get Your Child
The best part of the big adoption picture. Once the government gives the green light, you get to travel to pick up your child, or sometimes the agency arranges for someone to bring the child to you. You're now a parent! Congratulations!
Post Adoption
Most countries require post-adoption reports - either ones you fill out yourself or those prepared by a caseworker. These reports are typically required until you have had your child for at least two years.

And that, in a nutshell, is the big adoption picture.
Other Great Links
Are you trying to get pregnant and needing help? You can get your fertility and infertility questions are answered here at Doctors-Fertility-Help.com.

Learn more about the Hague Conference and what it says about Private International Law on Intercountry Adoption, an important part of understanding the big adoption picture, by clicking here.


More Helpful Information
Think you can't afford the high costs of adoption? We brought all three of our children home without going into debt, and so can you! Learn more.

Private international adoption is possible, but be aware that there are a lot of steps - and - paperwork involved. Learn more here.

Are you single and want to adopt? Many countries will still allow you to adopt even if you aren't married. Learn more.

Curious about how many parents adopted from what countries last year? These international adoption statistics will provide you with the overall picture.

You're thinking about building your family through adoption. After reading about the big adoption picture, are you still undecided whether to adopt abroad? Here are points to think about when considering Domestic versus International Adoption.

So what are the positive aspects of bringing a child home from overseas? Read here about the pros of international adoption.

But be aware that there are negative aspects of adopting internationally as well. Here are some of the cons of international adoption.

Have you ever wondered why your international adoption fee is so high? Here are some of the expenses that are part of your international adoption fee.

If you are thinking about pursuing international adoption, you want to be sure and choose the right agency. Here are some tips on choosing an international adoption agency.

Adopting a child from another country isn't always smooth sailing. There are risks involved in international adoption. Learn more here.

Have you ever wondered how international adoption began? You can read the big adoption picture on the history of international adoption here.

Nowadays, most international adoption agencies post pictures of children on the web, knowing a picture is a powerful way to connect children with families. But you should always proceed with caution before looking at any photolisting. Learn more about it here.

If you are single and wanting to adopt, more countries will now allow you adopt a child, including a toddler, sibling group, older child or disabled child. Learn more here.

Pursuing an international adoption without the help of an adoption agency is not only possible, but a great way to save thousands of dollars and keep you in control of your international adoption. Learn more.

Why can't these children be adopted in their own countries? The answer usually has to do with culture and pressures from society. Read more.

The Hague Treaty has been in effect for a few years now, so how has it impacted international adoption? Read more

International adoption can be one of the greatest things that can happen to you, but if you fall into the hands of an unscrupulous agency, you adoption dreams could become a nightmare. Learn how to protect yourself by clicking here.

Many parents pursuing international adoption are asked why they don't pursue a domestic adoption instead. There are many reasons why a domestic adoption is not always possible. Read more.

The hardest part of international adoption is the long wait to bring your child home. Learn one adoptive mom's tips for enduring the wait by clicking here.




---
Return from the Big Adoption Picture to the Home Page.
Pay Adoption Costs
Without Going Into Debt!
Adopt Debt free will provide you with the tools and techniques to completely pay for your adoption and bring your child home without having to go into debt!

Ready to learn more? Click here!.


---
Subscribe to My Free Ezine!


The International Adoption Ezine will keep you up to date with everything happening on International Adoption Facts and Information, as well as provide helpful tips about the adoption process, fundraising and raising your adopted child. Best of all, it's free!

Click Here to Subscribe.
---