International Adoption Preparation
For When You Bring Your Child Home
We all need some international adoption preparation - steps to help us make a smoother transition when we bring our new child or children home from another country. Here are some things you can do right now to prepare for when you bring your angel home.



Plan To Take Time Off
This is one of the best - and most important international adoption preparation tips out there. Parenting a child is one of the most joyous and yet toughest things you will ever do, and it's going to take some adjustment as well.

So if you work, do plan on taking off at least six weeks, if possible, to spend lots of one-on-one time with your new child.
Don't Expect Instant Bonding
Yes, you may fall in love with that little guy right away, but on the other hand, it is perfectly normal to look at your newly adopted child and feel...nothing. True love takes time.

In addition, newly adoptive moms are also occasionally surprised - and dismayed - when they experience depression. A woman who begins caring for an infant, even one she didn't give birth to, can get her hormones stirred up and still suffer from post-natal depression.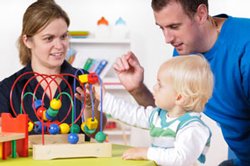 I even heard of a newly adoptive mom who produced breast milk within a couple of weeks of bringing her infant son home from Guatemala. And if producing breast milk is possible, then post-natal depression is certainly going to happen as well. While we all hope we won't get depressed after bringing that long-awaited child home, be aware that you can still suffer from its effects even if you didn't actually give birth.


Lay Aside Your Fantasies
You don't expect your spouse to be perfect, so why should you expect a child - with far less maturity and coping skills - to behave perfectly? And yet, it's normal to daydream about what parenting is like and expect our children to be perfect. So while you're working on your international adoption preparation, also prepare yourself for truly human - and occasionally bratty - behavior.
Find Support Now
Start looking for experienced parents - especially those who have adopted internationally - now and ask if you can consult them from time to time for advice and support. Don't forget to ask members of your church for help as well. Also start lining up potential babysitters. You may find it hard to believe now, but you will need a break from your sweet angel from time to time.
Read, Read, Read
There all sorts of great books out there that will help you in your international adoption preparation. The more you read now, the better prepared you'll be when challenges arise.
Cook Meals and Freeze Them
Once you bring your new child home, your life will change dramatically. The fewer menial tasks you have to do - such as cooking - the better. So when you cook at home, make an extra meal, or two or three and freeze them.


More Tips on Bringing Your Child Home
Finances are the number one reason many couples don't pursue their dream of adopting a child, but it doesn't have to stop you from adopting. We were able to adopt our three children without going into debt. You can too. Learn more.

Learn how to get ready to bring your child home by clicking here.



Before you know it, you'll be getting that call saying you can travel to pick up your child. Learn how you can prepare for it now by clicking here.

If you plan on adopting small children, be sure to include a fun travel kit to keep your little ones occupied. Learn how to make a travel kit by clicking here.

That adoption trip home with your new children can be a great bonding time if you make it fun. Here's how.

Are you getting ready to travel to bring your toddler home? Then you won't want to miss these important tips.

While waiting for the green light to pick up your child, it's easy to become discouraged and depressed, especially if you have a long wait. Learn ways to deal with the discouragement by clicking here.

Learning the language of your child's native country is a huge plus. Not only does it help you while you travel, but you will also bond more quickly with your child. Learn more.

Taking a few simple steps will help make traveling home with your child smoother. Learn more.

You may be legally qualified to take up to twelve weeks of unpaid leave once your bring your newly adopted child. Read more.

Learn to negotiate for extra maternity leave. Learn how.


---
Return from International Adoption Preparation to the Home Page.
Pay Adoption Costs
Without Going Into Debt!
Adopt Debt free will provide you with the tools and techniques to completely pay for your adoption and bring your child home without having to go into debt!

Ready to learn more? Click here!.


---
Subscribe to My Free Ezine!


The International Adoption Ezine will keep you up to date with everything happening on International Adoption Facts and Information, as well as provide helpful tips about the adoption process, fundraising and raising your adopted child. Best of all, it's free!

Click Here to Subscribe.
---