Get Organized For Family Travel
Get organized for family travel, and you will have much smoother travel and provide happy memories for your newly adopted child. According to Penny Whistle Traveling-with-Kids Book: Whether by Boat, Train, Car, or Plane...How to Take The Best Trip Ever with Kids
, here are some important items to add to your child's travel kit.



Comfort Items
Be sure to include a pillow, a small blanket and a stuffed animal or doll for your child. It will be much easier for your little one to take a nap if she has these comfort items with her.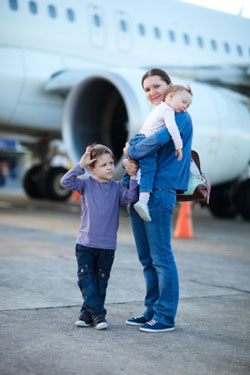 Traveling Entertainment
An important way to get organized for family travel is to include plenty of books for you to read together, as well as coloring books, notebooks, crayons, washable markers, stickers, rubber stamps and stamp pads to keep your little one occupied.
Don't Forget the Music
Providing plenty of fun music and audio books are a great way to get organized for family travel. Purchase a simple MP3 player and load it with fun children's songs and stories to provide hours of entertainment for your child and give you and your voice a break.
Life Story Book
While waiting for the green light to travel and pick up your child, buy a photo album and load it with pictures of your child's new home, your family pet, new family members she will meet and your church.

Be creative and write in a storybook format. Give it a title such as Zelda's New Home and Family. Be sure to include copies of any photos you have received of your child to make it her unique story.
Include a Surprise Grab Bag
This is a fun way to get organized for family travel and make the trip home a memorable one for your child. Before you leave to pick up your little one, stop by a dollar store and buy several small toys for your child and wrap them in tissue paper. Then on the trip home, give your child a wrapped package every hour or half hour, depending on the length of the trip.

Unwrapping a small present takes extra time and will add excitement and mystery to your child's trip.
Finger Puppets
Finger puppets are a great diversion when your children are tired or bored. Use them to create a puppet show for your child or one they can put one on themselves. Learn how to make finger puppets by clicking here.


More Tips on Bringing Your Child Home
Finances are the number one reason many couples don't pursue their dream of adopting a child, but it doesn't have to stop you from adopting. We were able to adopt our three children without going into debt. You can too. Learn more.

Learn how to get ready to bring your child home by clicking here.



Before you know it, you'll be getting that call saying you can travel to pick up your child. Learn how you can prepare for it now by clicking here.

If you plan on adopting small children, be sure to include a fun travel kit to keep your little ones occupied. Learn how to make a travel kit by clicking here.

That adoption trip home with your new children can be a great bonding time if you make it fun. Here's how.

Are you getting ready to travel to bring your toddler home? Then you won't want to miss these important tips.

While waiting for the green light to pick up your child, it's easy to become discouraged and depressed, especially if you have a long wait. Learn ways to deal with the discouragement by clicking here.

Learning the language of your child's native country is a huge plus. Not only does it help you while you travel, but you will also bond more quickly with your child. Learn more.

Taking a few simple steps will help make traveling home with your child smoother. Learn more.

You may be legally qualified to take up to twelve weeks of unpaid leave once your bring your newly adopted child. Read more.

Learn to negotiate for extra maternity leave. Learn how.


---
Return from Get Organized for Family Travel to the Home Page.
Pay Adoption Costs
Without Going Into Debt!
Adopt Debt free will provide you with the tools and techniques to completely pay for your adoption and bring your child home without having to go into debt!

Ready to learn more? Click here!.


---
Subscribe to My Free Ezine!


The International Adoption Ezine will keep you up to date with everything happening on International Adoption Facts and Information, as well as provide helpful tips about the adoption process, fundraising and raising your adopted child. Best of all, it's free!

Click Here to Subscribe.
---