International Adoption Grants
Part One
International adoption grants are a great help in paying those costly adoption fees. And while, you won't receive enough to pay for the entire adoption, most grants range from $500 to $3,000 - a big help towards that costly adoption. Here are some agencies that give out grants on a regular basis.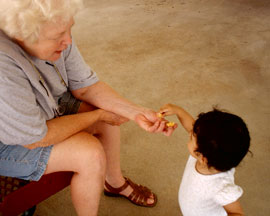 Show Hope
Founded by Steven Curtis and Mary Beth Chapman and originally named Shaohannah's Hope, Show Hope has been giving away international adoption grants since 2003.
Requirements
Show Hope is a founding member and current board member of the Christian Alliance for Orphans, and they encourage you to work with an agency that is a member of CAO.

Those interested in grants must also seek additional sources of adoption funding including seeking help from church. Prospective grant recipients must apply online after completing a home study and before having a child placed in your home. Both single parents and couples can apply for grants.

Show Hope receives hundreds of applications every month and gives out international adoption grants based on the availability of funds. They send out notifications via postal mail. Expect a wait of 3-4 months from the time you submit your application to when you are notified.
Help Us Adopt
Help Us Adopt was founded by Becky and Kipp Fawcett, a couple who struggled with horrendously expensive infertility costs ($82,000) before finally pursuing adoption and finalizing the adoption of their son in 2006. They vowed to someday help others and eventually founded Help Us Adopt.

They give out grants for both domestic and international adoptions of up to $15,000 toward adoption expenses to couples and individuals (regardless of race, religion, marital status or sexual preference) who are U.S. citizens residing in the U.S. with an approved home study and who have demonstrated a financial need. Start by filling out an online application. Priority is given to applicants without children.

Grants are awarded twice a year in June and December with application deadlines in the middle of October and the middle of April.
God's Grace Adoption Ministry
God's Grace Adoption Ministry was established in 1998 to aid in the placement of children into Christian homes to not only meet their physical needs but also influence their lives eternally for the Kingdom of God. This organization provides help in the form of international adoption grants and assist with adoption fundraising.

God's Grace Adoption Ministry offers matching grants to funds the adoptive family has raised in their own community. In other words, if they send you a letter of commitment for $2,500, and through fundraising efforts you are able to raise $2,500 in your community, you will then receive $2,500 from God's Grace Adoption Ministry for a total of $5,000 toward your adoption expenses.

Both parents pursuing grants for international adoptions and those needing assistance with domestic adoptions qualify. You must submit a $10 application fee along with your application. At the time of this writing, only two-parent, Christian families with a household income of $60,000 or less qualify for a grant.
National Adoption Foundation
The National Adoption Foundation was established in 1994 by adoptive parents wanting to provide financial assistance, services, and support to families, before, during and after their adoptions are finalized. They provide both domestic and international adoption grants.

Applicants must have a home study completed or have one in progress. The program is open to all legal adoptions of non-related children, including international adoptions, private adoption and special needs adoption. The Foundation gives out grants four times a year. Both the amount of each grant and the number of grants awarded depends on the funds available at the time of the Board's meeting.

To apply, fill out the application form. You are also required to make a donation with your grant application.
---
Other Helpful Sources
Ask many couples why they don't adopt, and they'll say finances are what are holding them back. But it doesn't have to be that way. My husband and I had a limited income, yet we were able to adopt three children, including one child from Guatemala without going into debt. You can too. Here's how.

Are you thinking about pursuing an international adoption? Developing a plan for how you'll pay for that adoption is the first step you should take. Here are some ways to get started.

There are many ways to fund an international adoption. Learn different ways by clicking here.



Uncle Sam also wants to help you with your adoption costs through a tax credit. Learn more.

If you're looking for more details about the tax credit, you can read more by clicking here.

Grants are a great way to help with adoption costs. Find agencies that offer grants by clicking here.

Want to learn about more places for grants? Here are some more great places to apply.

It is possible to find an international adoption you can afford. Here are some ideas to help save money.

Still wondering how you're going to pay those adoption expenses? Find more ways to raise funds by clicking here.

A garage sale is a great way to raise adoption funds. Learn how to finance your adoption by clicking here.

Intimidated by high adoption costs? Don't be. Paying for your adoption involves taking one step at a time. Find some more tips by clicking here.

So how much will your international adoption cost? The answer will depend on the country you choose and whether you choose to go through an agency or pursue an independent international adoption. Learn more here.

Fundraisers are a great way to pay for your adoption. Learn about some fun ones by clicking here.

The best kinds of fundraisers are fun, fairly simple to organize and - naturally - bring in the most funds for your international adoption. Learn more.

Making and selling gift baskets are one creative way to raise funds for your international adoption. You can read some tips on making an appealing basket by clicking here.

Thinking about taking out a loan to pay for your adoption? Read this article first by clicking here.

If you want to pursue a loan using your home as equity, there are important things to know upfront. Learn more here.

One of the easiest and most effective ways to pay for your international adoption is to learn to cut back on costs. Here are some easy ways.

Do you love doughnuts? You're not alone. Help pay for that adoption with a doughnut fundraiser. Learn more here.

When making plans for raising funds for your adoption, don't forget to include friends and family. Learn how to write a letter to solicit funds and help by clicking here.

More and more companies are now offering adoption benefits, so it's definitely worth your while to check and see if your company offers such benefits. Learn more.


Great Fundraisers!
Use a raffle to raise funds for your adoption. Learn more.

Sell t-shirts and pay for your adoption with a t-shirt fundraiser. Read more.

Read one person's story about raising funds for her adoption with a Garage sale fundraiser.

A benefit gala is a fun way to pay for your adoption. Read more.

How about a chicken dinner for raising funds. You can read all about it by clicking here.

One adoptive parent used a roller skating fundraiser to help with adoption costs. You can read her story by clicking here.

While you're doing one fundraiser, why not combine it with another one? Learn how.

Looking for a low-cost, simple way to raise funds? How about the pasta fundraiser? Read more.

A taste test party is another great way to raise funds. Learn more about it by clicking here.

Using the cash bash to raise funds for your adoption. Learn more.

A jigsaw puzzle fundraiser is a fun way to raise money for your adoption. You can read about it by clicking here.






---
Return from International Adoption Grants to the Home Page.
Pay Adoption Costs
Without Going Into Debt!
Adopt Debt free will provide you with the tools and techniques to completely pay for your adoption and bring your child home without having to go into debt!

Ready to learn more? Click here!.


---
Subscribe to My Free Ezine!


The International Adoption Ezine will keep you up to date with everything happening on International Adoption Facts and Information, as well as provide helpful tips about the adoption process, fundraising and raising your adopted child. Best of all, it's free!

Click Here to Subscribe.
---