Pasta Fundraisers
Pasta fundraisers such as a spaghetti dinner party are a low-cost, simple way to raise funds for your international adoption. They are also some of the easiest and most popular fundraisers. Almost everybody likes pasta, and it can be served in a variety of ways. Here are some tips to ensure your fundraiser is a successful one.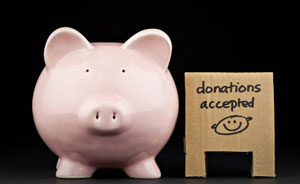 Pasta Fundraisers
and the Right Location
You're going to need a place that will be roomy enough to seat a large number of people comfortably. These places include a parish hall, VFW halls or even a park pavilion if the weather is cooperative.
Promoting Pasta Fundraisers
Make up a flyer, run off copies, and then post it at nearby grocery stores, libraries and other nearby places. Include the cost of the event, along with the purpose for your fundraiser. Keep a list of where you have posted each flyer so you will remember to take them down after the event.

You can also usually promote your fundraiser in the newspaper for free. Write up a couple of paragraphs about your dinner and why you're having it. Submit it to the newspaper a couple of weeks before the event.
Pasta Fundraisers
and Purchasing the Ingredients
About a week or so before your fundraiser, you will need to buy the ingredients and supplies for your fundraising dinner. Make a point of talking to the store manager, and let the manager know you are holding a fundraiser. You might get a discount on your purchases.

You will generally need about four ounces of dry pasta per person. If you buy ready-made sauce, you will need a 14-ounce jar for each two pounds of pasta you buy. In addition to plain sauce, you can also offer meat balls and Italian sausage. You should also pick up several Italian loaves as an accompaniment to the pasta.
Make Your Meat Balls
Here's how to make enough meat balls for sixteen people. Adjust the recipe accordingly to the number of people attending. You can make these meat balls ahead of time and freeze them until they are ready for use:
4 pounds ground beef
4 cloves of garlic, minced
4 eggs
2 cups grated Romano cheese
3 tablespoons parsley
4 cups of stale bread, crumbled
3 cups of lukewarm water

In a large bowl combine add your beef, garlic, eggs, cheese, parsley and salt and pepper to taste. Blend in the bread crumbs and then slowly add the water 1/2 cup at a time. It should be moist, but also able to still hold its shape when you work with it. Shape the mixture into meatballs and then place them on a cake rack over a foil-lined cookie sheet. Bake at 350 degrees for 20 minutes or until the meat balls are brown.
Pasta Fundraisers Need Help
So recruit lots of volunteers to ensure your fundraiser is a success. You will need people in the kitchen to help with the cooking, and you will also need help serving the pasta. Also get someone to man the money table.
Make Pre-Printed Receipts
Pre-print up receipts listing the event and date. In addition, provide lines for the name of the guest and the amount paid. That way they can have a receipt for tax purposes.

At the same table, provide a sign up sheet for those wanting updates on the progress of your adoption. Provide space for their name and email address.
Pasta Fundraisers and the Day of the Event
Cook your pasta, undercooking it slightly so that it doesn't get too soft during the event. If you want to get more for your dollar, spread your sauce out a bit by adding some of the cooking liquid to it.
An Hour Before the Event
Reheat your pasta by placing it in a colander and dunking it into the boiling water. Place the pasta on your serving dishes and top with the sauce. Warm your meat balls by heating them in the over and cook your Italian sausage. You can add these individually by request. Add a slice of Italian bread.
Offer Thanks
Afterwards, send out a thanks by email to everyone on your sign up sheet and let them know how much money you raised.


Looking for Other Fundraisers?
Creative Fundraisers are unique ways to raise funds for your international adoption. Here are some ideas that are fun to organize.
Ways to Pay for Your Adoption
The high costs of international adoption may seem intimidating, but there are many ways you can pay for an international adoption. Here are some tips.


---
Return from Pasta Fundraisers to the Home Page.
Subscribe to My Free Ezine!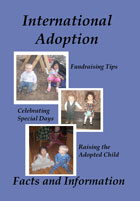 The
International Adoption Ezine
will keep you up to date with everything happening on this site, as well as provide helpful tips about the adoption process, fundraising and raising your adopted child. Best of all, it's free!
Click Here to Subscribe
.
---