Creative Fundraisers are a Fun Way
To Help Pay International Adoption Costs
Creative Fundraisers are unique ways to raise funds for your international adoption. Here are some ideas that are fun to organize: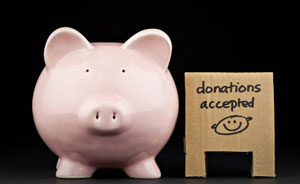 Baby Bottle Fundraiser
Passing out baby bottles is one of those great creative fundraisers that helps others visualize your goal of helping an orphan. Ask your pastor if you can pass out baby bottles to members of your church. Pass them around at the office as well. You can buy a case of baby bottles at a really low price here.

Then write up an insert to place inside each baby bottle. In brief explain that you are adopting an orphan and are trying raise funds to cover costs. If you already have a referral, include your child's name.

Print up labels using a laser printer and Avery labels. On the label, print the name of your fundraiser, such as "Smith Family Adoption Fundraiser". Pass the bottles out at your church and at work and ask people to fill the bottle with change over the week and then return the bottle to your church the following week.
Mystery Dinner Fundraiser
One of the most fun and creative fundraisers is hosting a murder - and dinner - and selling tickets to the event. Stage a murder mystery complete with dinner and a fun prize for whomever correctly guesses whodunnit.

You need some willing thespians to donate their time and extra volunteers to prepare and serve the food. Ask your church if you can borrow their parish hall for the event and start planning.

Set a date for the event and then sit down and determine all the costs of the event, such as food, prizes, invitations, etc. Then determine the price of admission. Most people are willing to pay extra for a charitable event.
Delectable Dessert Auction
Truly great and creative fundraisers involve yummy treats, such as cakes, brownies, cookies and pies. Ask friends and family to donate their favorite desserts and then set up an auction. Ask someone who would make a fun auctioneer to promote the desserts and raise bids on the items.
Read Stories of Other Creative Fundraisers
My Raffle to Raise Funds for Chinese Child Adoption

Back in August of 2004 my husband and I made the decision to adopt a Chinese girl. We are unable to have children of our own due to infertility problems....

T-Shirt Fundraiser

When we were fundraising for our first adoption, we sold t-shirts that spring that said "Jesus Loves the Children of the World" with a cute design on them....

Creative Garage Sale Fundraiser

We coordinated two garage sales to raise funds for our adoption. These weren't your ordinary run-of-the-mill junk fests netting a couple of hundred dollars....

Benefit Gala

On our quest to adopt a baby girl from China, we needed more than $10,000. Since I only had $6,000, my goal for the fundraising was the remaining balance ...

Chicken Dinner Fundraiser

My name is Blake, and my wife's name is Jennifer. When Jen and I were in the process of adopting our little girl, Jamie, from Honduras, we put on a chicken ...

Unique fundraiser ideas can be the best fundraisers for your international adoption. That's because they are created by you and reflect your unique personality and experience. That's how Kelly Miller came up with a roller skating fundraiser to help cover international adoption expenses.

How to do a fundraiser - or two - within a fundraiser? Look no further than the example of adoptive mom, Kelly Miller, who is raising funds for an international adoption. Kelly has a roller skating fundraiser planned for the fall, but she is also taking advantage of the event to raise even more funds.

Pasta fundraisers such as a spaghetti dinner party are a low-cost, simple way to raise funds for your international adoption. They are also some of the easiest and most popular of the creative fundraisers. Almost everybody likes pasta, and it can be served in a variety of ways. Here are some tips to ensure your fundraiser is a successful one.

Taste test fundraiser means great food, new epicurean adventures and the satisfaction of knowing you have helped a child in need while having a blast at the same time. What could be better?
Other Helpful Sources and Creative Fundraisers
Selling bracelets are a popular and fun way to raise funds for your adoption. Learn more about bracelet fundraisers here.

Are you thinking about pursuing an international adoption? Developing a plan for how you'll pay for that adoption is the first step you should take. Here are some ways to get started.

There are many ways to fund an international adoption. Here are some ideas to help pay adoption costs.

The Adoption Tax Credit is Uncle Sam's way of helping you with your adoption costs. Learn more.

If you're looking for more details about the tax credit, you can read more about the tax credit for international adoption here.

International Adoption Grants are a great way to help with adoption costs. Here are some agencies that provide such grants.

Want to learn about more places to apply for international adoption grants? Here are some more great places to apply.

If you're looking for the affordable international adoption, take heart. It is possible. Here are some ideas to help save money.

Still wondering how you're going to pay those adoption expenses? Here are some more ways to raise funds for your international adoption.

A garage sale is another one of those creative fundraisers that is a great way to raise adoption funds. Learn how to finance an international adoption through a garage sale.

Intimidated by high adoption costs? Don't be. Financing international adoption is like eating an elephant. You do it one bite at a time. Here are some tips.

So what are the costs of international adoption and how much will the total amount be? The answer will depend on the country you choose and whether you choose to go through an agency or pursue an independent international adoption. Learn more here.



---
Return from Creative Fundraisers to the Home Page.
Pay Adoption Costs
Without Going Into Debt!
Adopt Debt free will provide you with the tools and techniques to completely pay for your adoption and bring your child home without having to go into debt!

Ready to learn more? Click here!.


---
Subscribe to My Free Ezine!


The International Adoption Ezine will keep you up to date with everything happening on International Adoption Facts and Information, as well as provide helpful tips about the adoption process, fundraising and raising your adopted child. Best of all, it's free!

Click Here to Subscribe.
---