Cash Bash
by Amanda
My husband and I are doing a Benefit for our adoption. We talked with our local Knights of Columbus hall and had a room donated for the event.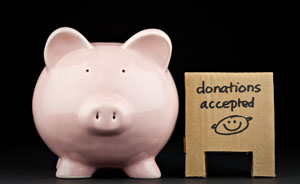 We had 400 tickets printed (the kind with rip-off stubs) and sold them for $50 each, which included admission for the night, free food and free beer (to draw in the crowd). We contacted some local black jack dealers who are willing to split their winnings with us to come and entertain. We had a DJ service donate their time to play at the event and contacted many vendors to set up tables at the benefit including:
Lia Sophia
Tupperware
Longaberger
Pampered Chef
InPURSEinators
Homemade Gourmet
KISS Spa Shop
Soy Candles
Initials Inc.
Mary Kay
Avon
All of whom are putting together a basket of free items for us to raffle off and also donating a portion of their earnings for the evening to the adoption fund. I located many of these girls just by searching the corporate websites for consultants in our area. About 75% of the vendors agreed to help out at the event.
We contacted many local businesses to hang up posters (which cost $100 at a local printing company) and to ask if they would donate items for the benefit. I contacted the local news papers and radio stations, and each did an article or announcement on our adoption fundraising efforts. The event is scheduled for March 20 and I have a feeling it's going to be a big success. The kindness of strangers has taken my breath away more than once during the planning of this event.
So far it's taken us about three months of planning, collecting and selling tickets. If you would like to see how we set things up take a look at it
here
. If you would like to set up an event like this, I would be more than happy to let you know what worked and what didn't. I'll post next week what we were able to raise. Good luck to you all. Our motto has been all you can do is try and if you fail KEEP TRYING! Blessings to all of you and good luck getting those kiddos home!
Blessings!
Amanda