Adopting a Toddler
Adopting a toddler is an option you may be considering, especially if you are thinking about adopting internationally. There is nothing cuter on earth than a toddler. I have one right now, and he's delightful, adorable, exasperating, funny and exhausting...and I wouldn't trade him for anything in the world.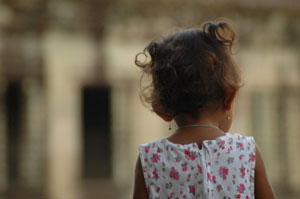 But as delightful as he is, life sometimes gets difficult for the both of us, because he can't always articulate his feelings, and he hasn't yet learned to cope with frustrations.

Now imagine how he would feel if he were suddenly whisked out of our home and into another country, where he didn't know the language, the food and smells were different than what he was accustomed to, and he didn't recognize a soul.

Heck, imagine how you would feel. And these are toddlers who have few coping skills, but do have a memory of a home they were comfortable in.

So if you plan on adopting a toddler, here are some ideas from Mary Hopkins-Best, author of Toddler Adoption: The Weaver's Craft that you can use to help your adopted toddler make the transition from his old home to yours as comfortable as possible.
Familiar Food
Research the types of food that are offered in his country of origin and try to offer something similar. Thanks to the internet, it's now easy to research and find ethnic recipes of just about any country out there.

If you are adopting a toddler and plan to travel to pick up your child, bring an extra suitcase and stock up on treats you wouldn't find at home. Obviously, you won't be able to bring back fresh fruit, meat or dairy items, but you can bring back packaged items, such as cookies or crackers. These familiar goodies will be comforting to your child.
Recognize Their Need to Grieve
Eighteen months is a lifetime to a toddler, and whether she grew up in an orphanage or a foster home, realize that she will miss the people she has known there.

She might not be able to tell you she is sad, but she will exhibit signs you can look for and recognize, such as not eating, crying a lot, sleeplessness, acting anxious or fearful or withdrawing from you.

During these times of grieving, provide extra comfort and patience. This is a difficult time, but it won't last forever.
Baby Her a Bit
When adopting a toddler, don't be worried if she acts much younger, and don't hesitate to treat her like a newborn. Hold her and give her a bottle. The cuddling and eye contact that go with it are some of the best ways to form an attachment.
Keep to a Routine
Children are comforted by a routine, especially toddlers. So set up a routine and stick to it with zeal.
Create a Family Ritual
In our family, we hold hands and pray together every evening before we eat. Have a game night or an evening once a week when you eat ethnic food.
Helpful Links
Looking for more tips on raising these precious little ones? Then check out Toddlers Are Fun. This helpful website includes fun activities, traveling tips, party ideas and potty training help.






---
---
The high costs of adoption are the main reason many couples don't adopt. Don't let finances get in the way of your adoption. Learn more.

If you dream of adopting a baby, then by all means, pursue adopting an infant. Learn more about international infant adoption.



Thinking of adopting a toddler? They will need special care and attention to help them adjust to the transition from their foster home to yours. Here are some tips.

Think your child to adopt will be an older child adoption? It can be wonderful, frustrating, delightful and exasperating. Find out if you have what it takes to adopt an older child.

Many couples are intimidated at the prospect of adopting a sibling group, but the benefits of adopting these children far outweigh the hassles. Learn the benefits of the sibling group adoption.

Learn some of the pros and cons of adopting sibling groups by clicking here.

Do you feel your child to adopt might be a disabled child? There are challenges involved, but hidden blessings as well. Here are some things to consider.

Children on an international adoption waiting children list are there because agencies consider them harder to place. But one or more of these children could be the right child for you. Learn more by clicking here.

International older child adoption has its own unique set of challenges and does require patience, outside support and work. But these adoptions do typically work.

Have you ever thought about adopting a child who is HIV positive? Thanks to medical advances, these children can lead normal, productive lives and need loving parents like you. Learn more

Are you over forty and considering adoption? There are a lot of positives to being an older parent, as well as some challenges. Read more.





Return from Adopting a Toddler to the Home Page.



Pay Adoption Costs
Without Going Into Debt!
Adopt Debt free will provide you with the tools and techniques to completely pay for your adoption and bring your child home without having to go into debt!

Ready to learn more? Click here!.


---
Subscribe to My Free Ezine!


The International Adoption Ezine will keep you up to date with everything happening on International Adoption Facts and Information, as well as provide helpful tips about the adoption process, fundraising and raising your adopted child. Best of all, it's free!

Click Here to Subscribe.
---