Adopt Siblings
Adopt siblings, and you bless not only the children you adopt, but also multiply the fun, expenses, aggravations and noise in your home. If you're wondering whether sibling adoption is for you, read on.

So what are the pros of sibling adoption?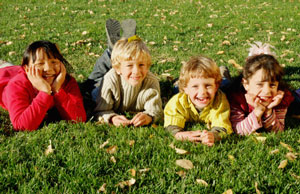 Greater Security
Children rely on their brothers and sisters for emotional security and stability as much as, if not more than their parents, especially if they live in the type of traumatic circumstances that would lead to their adoption in the first place.

Spend any time at all with children, and you come to realize that the oldest child becomes a second mother or father to the younger ones. Separate siblings, and you increase the devastation they experience and make it harder for them to bond with you.
More is Easier
Sounds hard to believe, I know, but it's true. Adopt siblings, and you bring children into your home with tried and true playmates. While they will fight, they will also keep each other entertained, providing you with necessary breathing space.

So what are the downsides of adopting a sibling group?
More Expensive
This is especially true if you adopt a sibling group internationally. Although many countries offer a lower fee for adopting siblings, your adoption and travel costs will be higher with a sibling group.

You will also obviously be paying more for food, clothing, medical bills and educational costs.
You'll Need More Room
More children take up more space, which means you'll need a bigger house, more beds and a bigger car.
Fighting
And of course, when you get two children together, they will inevitably fight, meaning you will have to referee the battles. You can get help for sibling rivalry here.

Just because I listed the cons last, doesn't mean they outrank the pros. So here's one more reason to adopt siblings. It's the right thing to do. So if you have always dreamed of a big family, I would encourage you to consider adopting a sibling group. In the end, you'll be blessed as much, if not more so, then they are.


---
---
The high costs of adoption are the main reason many couples don't adopt. Don't let finances get in the way of your adoption. Learn more.

If you dream of adopting a baby, then by all means, pursue adopting an infant. Learn more about international infant adoption.



Thinking of adopting a toddler? They will need special care and attention to help them adjust to the transition from their foster home to yours. Here are some tips.

Think your child to adopt will be an older child adoption? It can be wonderful, frustrating, delightful and exasperating. Find out if you have what it takes to adopt an older child.

Many couples are intimidated at the prospect of adopting a sibling group, but the benefits of adopting these children far outweigh the hassles. Learn the benefits of the sibling group adoption.

Learn some of the pros and cons of adopting sibling groups by clicking here.

Do you feel your child to adopt might be a disabled child? There are challenges involved, but hidden blessings as well. Here are some things to consider.

Children on an international adoption waiting children list are there because agencies consider them harder to place. But one or more of these children could be the right child for you. Learn more by clicking here.

International older child adoption has its own unique set of challenges and does require patience, outside support and work. But these adoptions do typically work.

Have you ever thought about adopting a child who is HIV positive? Thanks to medical advances, these children can lead normal, productive lives and need loving parents like you. Learn more

Are you over forty and considering adoption? There are a lot of positives to being an older parent, as well as some challenges. Read more.




---
Return from Adopt Siblings to the Home Page.
Pay Adoption Costs
Without Going Into Debt!
Adopt Debt free will provide you with the tools and techniques to completely pay for your adoption and bring your child home without having to go into debt!

Ready to learn more? Click here!.


---
Subscribe to My Free Ezine!


The International Adoption Ezine will keep you up to date with everything happening on International Adoption Facts and Information, as well as provide helpful tips about the adoption process, fundraising and raising your adopted child. Best of all, it's free!

Click Here to Subscribe.
---