Cloth Diapers Vs Disposable
Cloth diapers vs disposable - which is better? If you are planning on adopting a baby, it's a good idea to look into this now - and invest in some diapers before you bring your new baby home.



I first tried cloth diapers with my oldest son, and swore I would never use them again. I didn't realize you needed waterproof covers along with the diaper, and every time he peed, the urine soaked through his diaper, his onesie, and whatever he was lying or sitting in at the moment. I quickly gave up in discouragement.



The Bummi@ Wrap made me love the cloth diaper again. But things - and diapers - had changed by the time we brought our third, newborn son home eight years later. My friends got together and bought me several Bummi@ cloth diapers as well as some Bummi@ wraps.

It completely changed my perspective on cloth diapers, and while I would often switch back and forth between cloth diapers and the disposable kind, I gained a new respect for the cloth version. They hold in liquid just as well as the disposables - especially if you double up on the diapers. Plus, they are far sturdier diapers than the kind you find at your local department store.
Cloth Diapers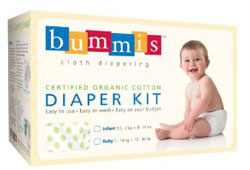 A diaper kit may cost more initially, but will save money in the long run. If you choose cloth diapers vs disposable ones, the initial investment for a set of cloth diapers plus covers will be higher, but when you consider the cost of disposable diapers, you'll find that you will recover your initial investment within a few weeks through the money you saved.

The disadvantage of using cloth diapers is you will have an increased laundry load, and you will have to stay on top of diaper changes to make sure your child doesn't develop a diaper rash.
Disposable Diapers
The clear advantage here is ease of use. Take the dirty diaper off, put it in the trash, put the new one on, and you're done. But you will be paying significantly more for disposable diapers over the long-run. Plus, with disposable diapers, it will be much harder to toilet train some children.

We found it nearly impossible to potty train our youngest until we switched back to cloth diapers. Some children need to be able to feel the wetness on their skin before they understand the importance of using a toilet. Thus, the advantage of cloth diapers vs disposable in teaching toilet training.

Learn positive parenting tips by clicking here.


---
More Helpful Information
A lightweight stroller - also known as an umbrella stroller - is a crucial must when traveling to pick up your child. Find the right stroller for you by clicking here.

Planning on adopting more than one child? If you are planning on adopting two small children, a double stroller will be a must. Read tips on finding the right double stroller for you by clicking here.

Protect your child from harmful chemicals that could cause cancer and other health problems by choosing the right baby bottle. Learn more.

Cloth diaper or disposable; which is best for your newly adopted baby or toddler? Learn more by clicking here.

Cleaning your toddler's cloth diapers isn't difficult, but there are some tricks to it. Learn more.


---
Return from Cloth Diapers vs Disposable to the Home Page.
Pay Adoption Costs
Without Going Into Debt!
Adopt Debt free will provide you with the tools and techniques to completely pay for your adoption and bring your child home without having to go into debt!

Ready to learn more? Click here!.


---
Subscribe to My Free Ezine!


The International Adoption Ezine will keep you up to date with everything happening on International Adoption Facts and Information, as well as provide helpful tips about the adoption process, fundraising and raising your adopted child. Best of all, it's free!

Click Here to Subscribe.
---