BPA Free Baby Bottles
BPA free baby bottles are a good choice to protect your newly adopted baby from a wide range of health problems, including attention-deficit disorder, diabetes, obesity and cancer.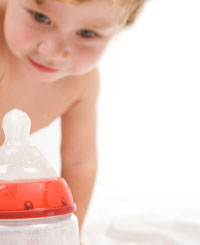 What is BPA?
BPA stands for bisphenol A, a chemical used to harden plastic. Companies that use this chemical argue that BPA is safe to use, but recent reports now state that BPA can be toxic to humans and especially to infants, because it mimics the sex hormone estradiol, especially when exposed to high temperatures.

Studies on rats have shown that some of the dangerous side effects of BPA include hyperactivity, abnormal sexual behavior, early puberty, disrupted reproductive cycles and obesity. Do you honestly want to expose your child to such risks?
Locating BPA Free Baby Bottles
You won't be able to find these bottles simply by looking at the packaging of various baby bottles. Unfortunately most baby bottle manufacturers in the United States use BPA in their production of baby bottles along with other food storage containers and toddler sippy cups.

Instead, you will have to be proactive in your search for BPA free baby bottles. Here are some trusted brand names that carry baby bottles that don't contain this harmful chemical.
Dr. Brown's BPA Free Polypropylene Bottles
Dr. Brown's Natural Flow Wide Neck Newborn Feeding Set
have a special system that reduces the build-up of vacuum pressure, thus reducing the chances of your baby developing gas. The bottles do take more time to clean than standard baby bottles, but they are also easier to hold and don't topple over easily.
Gerber First Essentials
First Essential Fashion Tints BPA Free Plastic Nurser With Latex Nipple, 5 Ouce, 3 Pack
are lightweight and the price is can't be beat. The bottles don't leak, are easy to use and wash and are easy for your baby to hold.
Nuby Baby Bottles
Nuby Tinted Bottle, Colors May Vary, 3 Pack, 10 Ounce
are non-drip bottles have an anti-colic air system that helps keep your baby from swallowing air and getting gas. The bottles have a vari-flow valve that allows your child to control the liquid's flow rate.
---
More Helpful Information
A lightweight stroller - also known as an umbrella stroller - is a crucial must when traveling to pick up your child. Find the right stroller for you by clicking here.

Planning on adopting more than one child? If you are planning on adopting two small children, a double stroller will be a must. Read tips on finding the right double stroller for you by clicking here.

Protect your child from harmful chemicals that could cause cancer and other health problems by choosing the right baby bottle. Learn more.

Cloth diaper or disposable; which is best for your newly adopted baby or toddler? Learn more by clicking here.

Cleaning your toddler's cloth diapers isn't difficult, but there are some tricks to it. Learn more.


---
Return from BPA Free Baby Bottles to the Home Page.
Pay Adoption Costs
Without Going Into Debt!
Adopt Debt free will provide you with the tools and techniques to completely pay for your adoption and bring your child home without having to go into debt!

Ready to learn more? Click here!.


---
Subscribe to My Free Ezine!


The International Adoption Ezine will keep you up to date with everything happening on International Adoption Facts and Information, as well as provide helpful tips about the adoption process, fundraising and raising your adopted child. Best of all, it's free!

Click Here to Subscribe.
---