Cleaning Cloth Diapers
Cleaning cloth diapers. If you're planning on adopting a baby, investing in some good quality cloth diapers can save you a ton of money in the long run and keep from adding to the landfill, a plus for the environment. But some people may find the idea of using cloth diapers intimidating, especially when it comes to cleaning your diapers.



I learned the right way to use cloth diapers first hand when we brought our youngest son home. As a shower gift, my friends chipped in and bought me a couple dozen cloth diapers. I quickly grew to appreciate the economical value and the security of having cloth diapers. No more worrying about having diapers on hand in an ice storm!

But learning to clean them was a challenge at first. Here are some tips to make the job easier.
Storing Dirty Diapers
A toddler will go through about five to eight cloth diapers a day, which is not enough for a full load of laundry so you'll be storing dirty diapers for a day or two until you get a full load. You don't need to dunk the dirty diapers in the toilet. Instead just shake the extra feces into the toilet. You can also use an old rubber spatula to scrap away the extra mess.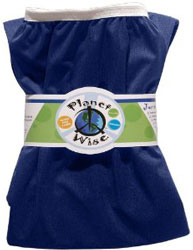 Using a diaper pail liner
helps eliminate odors. You can either store dirty diapers in a dry pail or a pail of water. We tried both methods, trying the wet pail method first, keeping the diaper pail on top of the washing machine. We quickly realized that storing dirty diapers in water makes the smell stronger. Plus it was a pain to move and messy besides. Keeping dirty diapers in a dry pail ended up working better for us.

What I wish I had known then, was that investing in a diaper pail liner
, such as the one pictured on the right, would have virtually eliminated the smell altogether. By adding a few drops of lavender essential oil
to the bag, you can reduce the odors even more and add a pleasing aroma to the nursery that will help your baby sleep better at night.
Cleaning Cloth Diapers
The tips for cleaning cloth diapers are, fortunately, straightforward and simple. Don't wash more than 24 diapers at one time, or your diapers will pill. Also be sure to fasten all Velcro straps and snaps before your wash your diapers.

You always want to run your diapers through two wash cycles. Put the diapers through a cold cycle first to keep the diapers from staining. Then you can use hot water on the second cycle. Finally, run the diapers through an extra rinse.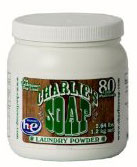 Use a laundry powder such as Charlie's Soap Powder
that has no chemicals or dyes.

You want to use a laundry detergent that has no chemicals, dyes or fragrances. An excellent choice is Charlie's Soap Powder
. It gets diapers really clean and won't irritate your baby's sensitive skin. Go easy on the amount of soap you use in each load. You'll need about half the amount of detergent you would normally use.

To get rid of any extra strong odors when cleaning cloth diapers, a good product to use is biokleen Bac-Out
. It's gentle to your baby's skin and will destroy stains and odors naturally. By putting your diapers in a dryer, you help sanitize them. You can also do this by hanging your diapers out on a warm sunny day. Direct sunlight will also help bleach out the stains.


---
Preparing for a shower? Learn how to make a diaper cake with this video.

And when it's time to toilet train your toddler, follow these helpful secrets.


More Helpful Information
A lightweight stroller - also known as an umbrella stroller - is a crucial must when traveling to pick up your child. Find the right stroller for you by clicking here.

Planning on adopting more than one child? If you are planning on adopting two small children, a double stroller will be a must. Read tips on finding the right double stroller for you by clicking here.

Protect your child from harmful chemicals that could cause cancer and other health problems by choosing the right baby bottle. Learn more.

Cloth diaper or disposable; which is best for your newly adopted baby or toddler? Learn more by clicking here.

Cleaning your toddler's cloth diapers isn't difficult, but there are some tricks to it. Learn more.


---
Return from Cleaning Cloth Diapers to the Home Page.
Pay Adoption Costs
Without Going Into Debt!
Adopt Debt free will provide you with the tools and techniques to completely pay for your adoption and bring your child home without having to go into debt!

Ready to learn more? Click here!.


---
Subscribe to My Free Ezine!


The International Adoption Ezine will keep you up to date with everything happening on International Adoption Facts and Information, as well as provide helpful tips about the adoption process, fundraising and raising your adopted child. Best of all, it's free!

Click Here to Subscribe.
---