Advantages of Breastfeeding
Advantages of breastfeeding your internationally adopted infant are huge, and if you have a desire to breastfeed your baby, I would certainly encourage you to learn the techniques and get prepared before your bring your child home.



But even if you already have your baby at home, you can still teach your baby to breastfeed, even if she is ten months old or older. But you will need to have patience and enjoy each success as it comes.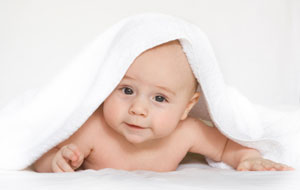 The Emotional Advantages of Breastfeeding
The emotional advantages of breastfeeding are huge. There is research showing that newborns recognize - and miss - their birth moms when they are separated. Then your baby was either in a foster home or in an orphanage, where she became accustomed to different experiences and hopefully became attached to someone. Then all that was taken away when you brought her home.

As her new mother, you will need to assure your baby that she can depend on you to take care of her and meet her needs, including her crucial need for food. With breastfeeding, you can provide her with emotional nurturing and nutritional needs and establish a strong bond. Even if you produce no breast milk at all, the nurturing will be worth it, but some adoptive moms are able to produce breast milk. Then, the advantages of breastfeeding are even greater.
Advantages of Breastfeeding and
Healing Breast Milk
Eventually produce even small amounts of breast milk, and the advantages of breastfeeding are huge. Human breast milk will help your baby develop her central nervous system and improve her eyesight. Breast milk has the perfect amount of fat and carbohydrates to aid her brain functions.

Other advantages of breastfeeding include protecting your baby from chronic diseases later in life. Breastfeed your baby, and she is less likely to suffer from celiac disease, multiple sclerosis, diabetes, cancer, sudden infant death syndrome, colitis, Crohn's disease, juvenile rheumatoid arthritis, obesity, tonsillitis, allergies, atopic disease and asthma.

The short range advantages of breastfeeding include relief from constipation, fewer ear infections, and protection from skin disorder. Nurse your baby, and she will be less likely to go to the emergency room or need antibiotics.
Great Resource
To learn more, visit La Leche League's helpful site. Another helpful source is Breastfeeding Moms Unite.
Want to Learn More?
Learn the how-to's of Adoptive Breastfeeding.
More Information on Raising Adopted Children
Are you single and thinking about adopting? It can be tough to be a kid raised by a single parent, but there are also advantages to being a single parent.

Adopted children who are now grown can tell us a lot about how to raise an adopted child. Here are some tips.

The first time you hold that precious child in your arms, you may be tempted to protect her from every conceivable harm. But that may not be the best thing for her. Here are some reasons to avoid helicopter parenting.

Although it is rare, there are failed international adoptions. Learn the warning signs before it is too late by reading this article.

When celebrities like Madonna are raising adopted children, it has an impact on international adoption for both good and ill. Learn how.

Learning about adoption does not have to be a major or traumatic issue for your child. Learn some useful tips on telling her about her adoption here.

Good parenting skills are something most adoptive parents are thinking about while on their international adoption journey. We truly appreciate these precious children and want to raise them the best way we know how. Read more.

Raising adopted children through a permissive parenting style is an easy trap for adoptive parents to fall into, but if you choose to parent your child without rules both you and your child will suffer for it. Read more.

Sign language is a great tool for anyone raising adopted children, especially internationally adopted children by providing parents with an easier way of communication during those early days and easing frustration for their child. Read more.

Most adoption stories are told from the parent's perspective. It was truly refreshing, therefore, when I stumbled across the story of one adoptee who reunited with her family in Taiwan. Read more.

An international adoption resource to help parents effectively communicate with their newly adopted children was the goal of one adoptive mom when she created Russian for Adoptive Parents and Chinese for Adoptive Parents. These programs teach parents comfort phrases in their children's native languages. Read more.

Having a learning disabled child is likely, especially if you adopt more than one child internationally or even domestically. But these children can be just as intelligent and delightful as any other child, although they will have their own unique challenges.

Return from Advantages of Breastfeeding to the Home Page.



Pay Adoption Costs
Without Going Into Debt!
Adopt Debt free will provide you with the tools and techniques to completely pay for your adoption and bring your child home without having to go into debt!

Ready to learn more? Click here!.


---
Subscribe to My Free Ezine!


The International Adoption Ezine will keep you up to date with everything happening on International Adoption Facts and Information, as well as provide helpful tips about the adoption process, fundraising and raising your adopted child. Best of all, it's free!

Click Here to Subscribe.
---