Adopt Debt Free Affiliate Program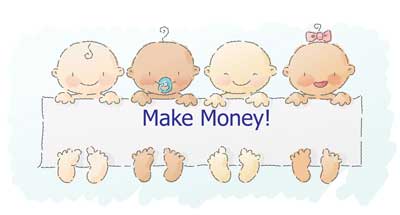 Affiliate Program for Adopt Debt Free
By promoting the book Adopt Debt Free on your blog or website, not only do you help others to pursue their dream of adoption, but you also earn money.

You can earn 40% of every sale of this ebook that comes through your link.

Not only is selling Adopt Debt Free easy, it's also profitable. Here's how you get started:


Sign up and get your affiliate link
You'll need to join e-junkie's affiliate program. Just click on the link below to get started:



Join our Affiliate Program!





Important Payment Information
Please note: You will not receive the 40% commission if you are purchasing the book yourself.

How you are paid: Once the 60-day guarantee is over, you will be paid for any books you have sold that month. For example, if you sell three books in January, you will be paid at the end of March.
Please Don't Spam
Spamming is when you send mass, unwanted emails to others and will not be tolerated. The absolute best and most effective way to sell the book Adopt Debt Free (or any other product, for that matter) is through a link on your website or blog, or in a newsletter which people have voluntarily signed up for and want to receive. If you are pushing the sales of this e-book through unwanted emails or by adding links on forums that do not belong to you, your account could be suspended.
Once You've Joined the Affiliate Program
Promote Sales with These Informative Articles
Important! Please Read This!
One of the best ways to sell a product is through relevant links placed within the articles of your blog or website. That's why I have written the following articles for you to use to help promote the book Adopt Debt Free. Feel free to use these articles on your newsletter, blog or website to provide valuable information and show your readers the value of purchasing this book. Just substitute your affiliate e-Junkie link at the end of the article. Also be sure to place your affiliate link anywhere in the article where you see the phrase "Adopt Debt Free" using the following code:



<a href="your-affiliate-link">Adopt Debt Free</a>.




Get Free Promotional Articles
Get a
new promotional article
each month sent directly to your email box
absolutely free
! These articles are free to use - perfect to send out with your monthly newsletter or to use on your blog or website.
Just be sure to put your affiliate link where ever you see the phrase "Adopt Debt Free" in the articles. People will naturally click on the link and buy the product.

To sign up for these free monthly promotional articles, click here.
---
Article #1

Looking to Adopt? Don't Forget Your Website

By Sue Merriam

Are you thinking about building your family through adoption? If you are, you know that adoption costs can be intimidating, but you can pay for that adoption without having to go into debt. And having a website or blog is a great way to help you on your journey to adopt debt free.

So why is a blog or website so important? If you're just using the internet to check on email, you might not fully realize the power of the World Wide Web. Here's how having your own space on the web can really help with adoption costs:

Keep People Informed

The more involved others feel in your adoption journey, the more motivated they will be to help you with your adoption costs. And there is no more effective and simple way of spreading the news of your progress to friends and family members than to post it online. Send out an email letting everyone know of your new blog or website. Then every time you post a new articles or bit of news, send an email with the link. Friends and loved ones will appreciate your efforts to keep them in the loop, and they'll have a better picture of what your needs are.

Promote Fundraising Efforts

Every fundraising event you plan - whether it's a simple garage sale or a benefit dinner - can be promoted quickly and easily through a website, thus ensuring greater attendance and increased donations to your adoption cause.

Sell Online

Are you crafty? Whether you're offering decorative hair bows, potholders or t-shirts for sale, you can promote them on your website and even sell them online. Just sign up for Pay Pal and add a shopping cart and corresponding links, and you're ready to go.

Make Donations Easier

Add a Pay Pal donation button to every page of your blog or website, and you make it far easier for friends and family members to make a donation to your adoption expenses. With Pay Pal they have the extra option of paying with a credit card or their Pay Pal account. Better still, they can make a donation to your cause at two in the morning - while you're sleeping comfortably in your bed.

So when you're thinking of ways to pay for your adoption, don't forget to carve out your space on the electric frontier of the World Wide Web.

Learn proven tips and techniques that will enable you to adopt without going into debt in Sue Merriam's ebook, Adopt Debt Free - http://www.adopt-debt-free.com
---
Article #2

Overwhelmed by the Costs of Adoption?

If you have ever considered adoption, but were intimidated by the costs, you're not alone. A 2005 survey done by the Department of Health and Human Services showed that over one-third of Americans have ever considered adopting, but only two percent of Americans have actually completed an adoption. The high cost of adoption is one of the reasons why.

But the good news is adoption - especially a debt free adoption - is possible, although it will take some effort and preparation.

What Those Numbers Mean

Visit the website of an adoption agency, and they typically have a ball park figure of what an adoption will cost. You see an amount like $23,000 and you want to run away in fright; but hold on a moment. You won't need to pay that amount all at once. For most adoptions you typically pay as you go along, meaning you will usually have ample time to raise funds for your adoption.

So how does it work? Usually you pay the application fee the first month, and then a few months later you'll be paying for your home study and your application to adopt an orphan from another country, if you are adopting internationally. The international fee or birth mother costs aren't typically due until you have received a referral, usually several months down the road. That gives you time to raise the funds for your adoption.

Raising the Money for Your Adoption

There are several ways to pay for your adoption, including some of the following:

First Stop: Your Budget

By foregoing fast food, cooking meals at home and taking a hard look at our budget (or in some cases, making a budget) is a powerful way to bring in money for an adoption. And it doesn't have to be painful.

Don't believe me? Consider this: what if instead of stopping by that coffee shop every day on your way to work, you decided instead to make your own frappuccino at home. You could easily save $3 a day. That's $15 per week or $780. There are all kinds of simple little ways to cut back on costs and help pay for your adoption.

Don't Forget Grants

Many nonprofit organizations want to encourage adoptions and will offer grants of $1,000 and up to qualified couples.

Fundraising

A well-organized fundraiser can raise $2,000 or more and is a great way to raise funds for your adoption. Plus, fundraisers can be as unique as you are. But no matter what method you choose to pay for your adoption, don't delay. That wonderful referral day will be here before you know it.

Learn proven tips and techniques that will enable you to adopt without going into debt in Sue Merriam's ebook, Adopt Debt Free - http://www.adopt-debt-free.com
Use the Following Images to Promote Adopt Debt Free
Feel free to use any of the images below on your blog or website to promote the book.